The year is 1907. President Theodore Roosevelt, in his second term, visits Norfolk, where celebrations for the 300th Term-Centennial Anniversary of colonial America are underway.

His arrival is an extravagant spectacle; the presidential yacht swung to her anchor without a flutter of the sails, docking alongside an international fleet of 47 battleships, and was received in salutation by cannon fire. 
"At last the smoke cleared away, and the President was perceived — on the deck of the Mayflower — with his high hat in hand and his frock coat flapping in the breeze," the Philadelphia Inquirer said of the event, at the time called the Jamestown Exposition.

Roosevelt spoke before a sea of bowler caps; 40,000 attended to hear his address. Speeches were also made by Booker T. Washington and Mark Twain.

An estimated 1.2 million turned out for the week-long 1907 exposition, yet most already knew the basic story of Jamestown. They came for festivities likened to the World's Fair, and enjoyed promises of progress.

The site spread like the state fair across 340 acres of ground and water, while carnival rides and games filled the grounds. The "War Path" amusement park, a Wild West show and a re-creation of the San Francisco earthquake, came included with the general admission price of 50 cents for adults and 25 cents for children.

Fifty years after the Jamestown Expedition, construction finished on Colonial Parkway — and Queen Elizabeth II delivered a personal address to the crowds. Fifty years after that, in 2007, after the attacks and subsequent questioning of public safety, George W. Bush spoke before an outdoor commemoration of 9/11. Bush gave a cheeky address, and later directed the Virginia Symphony Orchestra before an outdoor crowd.
That was 12 years ago. And this Tuesday, President Donald Trump travelled here to Jamestown to give his keynote speech celebrating the 400th Anniversary of the first legislative body within what would become the United States of America, Virginia's House of Burgesses.

But unlike when Roosevelt arrived 112 years ago, there were no rides, no attractions, no special fair foods, no celebration. And unlike the queen's address in 1957, or Bush's conducting in 2007, there was no sense of festivity, no big shows, and no attendance by the Royal Family.

The event, instead, was private. Bulletin boards informed of delays in tours until the afternoon. Much of Colonial Parkway was closed off. Layers upon layers of barricades besieged the Jamestown settlement. Signs and police checkpoints instructed anyone uninvited to steer clear.

The event saw more security than attendees, and a tension in the air that, even sitting next to an industrial sized A/C vent, made it hard to breathe.

Inside the inner layer, squad cars and local party members filled the parking deck. Wild West shows and reenactors were replaced by body scanners and checkpoints.

Snipers nested on the roofs that overlooked the breakfast buffet. Older individuals filed into the air-conditioned tent, clad in prim summer suits and red hats to cover balding scalps and spun-up hair.

Indeed, the only "War Path" of the day was for anyone who dared contend with the narrative of the planned proceedings.

The event was organized by American Evolution, a sub-company of Dominion Power. When asked for specifics on who was chosen to be invited and who funded the event, AE failed to comment — though when speaking to guests and purveying the grounds, it was clear most of the invitees were elected officials, members of law enforcement, or interested stakeholders.

Technically, the event was not meant to celebrate the 400th anniversary of the English's first arrival to America in 1607 — that was what Bush was celebrating 12 years ago. Instead, this event honored the creation of the House of Burgesses in 1619. Yet many speakers, from erudite historians to Trump himself, spoke at great length of the initial arrival in Jamestown and the creation of the United States' first legislative body as one and the same.

Most of the day consisted of speeches by Virginia officials. Senate Majority Leader Thomas K. Norment, R-James City, led the opening discussion, about learning from the mistakes of the past — which would become a theme for the day's speeches.

"Between the James and York rivers, you will find the birthplace of our nation whose legacy can still be felt here, and not just because you may bump into someone at the grocery in a tri-corner hat or a hoopskirt," Norment said. "We honor history here, and we must preserve our past, but we also have a duty to learn from it."

While 1619 brought major changes pertinent to America's emerging representative democracy, it also brought slavery to the new world. Historically, Jamestown brought both success and failure, both progress and atrocity. Speakers attempted to observe this duality of our nation's past, and without stirring the pro-Trump crowd, made tongue-in-cheek allusions to similar mistakes we make today.

"Here in Virginia, we try to live up to those American ideals," Governor Ralph Northam said. "We know our diversity is our strength, and we welcome immigrants, refugees, and all those who, like those who stood on this spot 400 years ago, come to Virginia in search of a better life."

Our doors are open and our lights are on, no matter who you love, no matter who you are, or no matter where you come from — you are welcome in Virginia. And there is no ideal more American than that.

"Extremism, racism, nativism, xenophobia and isolationism driven by a fear of the unknown tend to spike in periods of stress… a period like our own," said Jon Meacham, a Pulitzer Prize-winning journalist and historian. "Yet history teaches us that we've always grown stronger the more widely we've opened our arms, and the more generously we've interpreted the most important sentence ever rendered in English: Thomas Jefferson's assertion that all men are created equal."

Meacham, most notably the author of American Lion: Andrew Jackson in the White House, marked the history of Jamestown as the history of America.

"Jamestown is a mirror of who we were and who we are," he said. "Dreamers and doers came here and they built, and we stand in the light of their achievement."

Current lawmakers and local supervisors of the original boroughs were in attendance, but both the Virginia Black Caucus and state Democratic leaders skipped the commemoration organized by American Evolution. Their absence was intentional, a boycott of Trump's attendance and a protest of his recent Twitter attacks on four congresswomen. The caucus instead held their own commemoration in Richmond, which focused on the "400-year evolution of African-Americans."

"We will not be attending any part of the commemorative session where Donald Trump is in attendance," said a statement by the leadership of the Virginia House and Senate Democratic Caucuses. "The current President does not represent the values that we would celebrate at the 400th anniversary of the oldest democratic body in the western world."

However, some Democrats attended as a stance for inclusion.

"I represent everyone by being here today, and in particular, I'm hoping we're able to send a different message about the value of inclusivity, equality, equity and diversity here in the Commonwealth," Del. Danica Roem (D – Prince William) said, according to NBC 12. 

Lt. Gov. Justin Fairax, who also attended, was leery of the President's speech. 

"I listened to the words, but they rang hollow, and were very empty because they are not reflective of the actions of this administration," Fairfax said, according to NBC12.

Many of the state's Democratic political leaders did not attend the event for similar reasons. A spokesperson for the Virginia House Democratic caucus said it was up to individual lawmakers to decide if they wanted to attend, but leadership would not be there.
"My reaction is that, certainly, this is our democracy in action, and we all have a right to make our position and make our statement," said Kathy Spangler, the Executive Director of American Evolution, according to WTKR News.
By the time Trump came on to speak, the day's proceedings were almost over. 

"As we can see today on this great anniversary, it would not be the last time that God looked out for Virginia," Trump said. "Together, the settlers forged what would become the timeless traits of the American character. They worked hard, they had courage and abundance, and a wealth of self-reliance. They strived mightily to turn a profit, they experimented with producing silk, corn, tobacco, and the very first Virginia wines."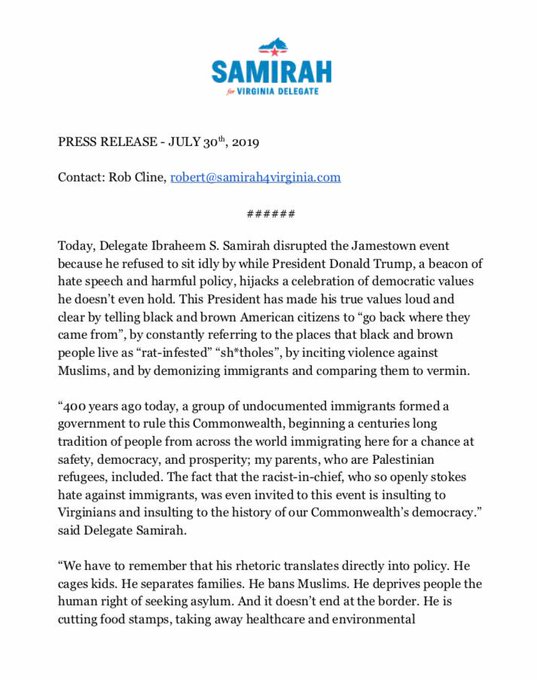 Trump's ending remarks were interrupted when Del. Ibraheem Samirah (D – Herndon) held a sign reading "Deport Hate," "Go Back To Your Corrupted Home," and "Reunite My Family."

"Virginia is our home! You can't send me back!" Samirah shouted. Trump fell silent and stuck his nose towards the ceiling as the crowd began to shout and boo. Police escorted Samirah out. Some of the more stirred in the crowd began to chant "Trump, Trump, Trump." 
"I just disrupted the @realDonaldTrump speech in Jamestown because nobody's racism and bigotry should be excused for the sake of being polite," Samirah later said on Twitter. "The man is unfit for office and unfit to partake in a celebration of democracy, representation, and our nation's history of immigrants."

In order to leave, we required an escort to guide us out of the premises. While this may seem fairly common for a political event today, this is a stark difference from the way we celebrated democracy in both recent and long time past.

In those moments, I began to wonder — would Roosevelt, Bush, or members of the original House of Burgesses do the same? In the face of grievances, is it normal to ignore, look away, and simply wait for security to handle it for them?

We walked out on the speech early, cameras in hand, trying to get some photos of Del. Samirah, who was brought outside for questioning. After some walking, I looked up to my right and noticed two of the snipers posted on the wall, binoculars glued to their eyes, watching us. And for a moment, I didn't know whether to feel afraid or proud. I wondered if 112 years ago, if they had snipers on the roof, or protesters on the lawn.

Either way, what a day to be an American.